James Cameron's Avatar: The Water Way coming to home video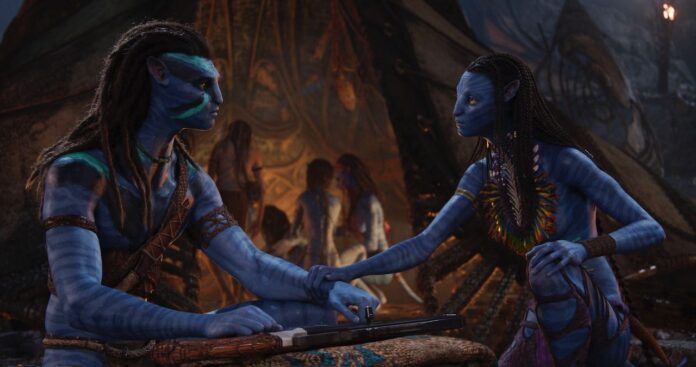 Starting May 22, 2023, the exclusive Home Video editions of are finally available for pre-order Avatar: The Way of Water Of James Cameron, the sequel to the 2009 world blockbuster film, winner of an Academy Award, a BAFTA and nominated for two Golden Globes. Set more than a decade after the events of the first film, Avatar: The Way of Water will be available in DVD, two-disc Blu-Ray, 4K Ultra HD (with two Blu-ray discs + one UHD disc) and a three-disc Collector's Edition 4K Steelbook. The Blu-ray, 4K Ultra HD and Steelbook editions will be enriched by over 3 hours of extra content, including numerous featurettes showcasing the research performed by James Cameron and the team of artists to build the world of Pandora with new characters, creatures, clans and environments, also revealing the advances made by technology in the creation of the ecosystem and sea creatures of the sequel.
In this new adventurous chapter of the saga we find the two protagonists Jake Sully and Neytiri still together and with children in tow, ready to explore new heights and unknown depths always within the boundless world of Pandora. When an old, familiar threat resurfaces to finish what was once begun, Jake must once again team up with Neytiri and the Na'vi army to protect their incredible planet. Jake and Neytiri will therefore be forced to leave their home and explore various regions of Pandora, making the acquaintance of the Tulkun, majestic sea creatures of the ocean.
The ensemble cast of Avatar: The Way of Water sees again in the shoes of the iconic protagonists Sam Worthington And Zoe Saldanawhile among the new characters the name of the extraordinary stands out Kate Winslet returning to the set of James Cameron almost twenty-five years after "Titanic". With as many as 2 billion in receipts globally, Avatar: The Way of Water ranks third in the ranking of films with the best box office ever.
Finally, "AVATAR REMASTERED", the spectacular remastered version of the 2009 film, will soon be available for pre-order, which will arrive on Home Video in July in the exclusive Blu-Ray Remastered and 4K Ultra HD formats (with double Blu-ray disc + UHD), both containing an additional disc with unmissable special contents.