May December: photos of Julianne Moore, Todd Haynes and Natalie Portman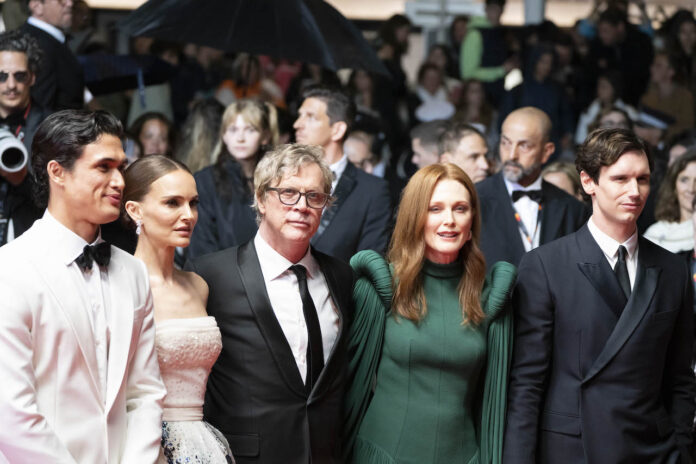 Last night in addition to the great premiere out of competition of Killers of the Flower Moon, was presented in competition at Cannes Film Festival May December, by the American director Todd Haynes which brings together Natalie Portman And Julianne Moore in an introspective romantic drama about the sulfurous past of a famous couple. To prepare for her new role, Elisabeth (Natalie Portman), a famous actress, meets Gracie (Julianne Moore), which it will interpret on the screen. The latter had inflamed the tabloid press and captivated the country two decades earlier by maintaining an affair with Joe (Charles Melton), 23 years her junior.
Driven by Samy Burch's screenplay, Todd Haynes questions the choices of two women at two moments in their lives. A painful return to the past for a sixty-year-old former idol who wants to move on from a sincere and dangerous search for the truth for a Hollywood star at the peak of her career. Between the two, the male character of Charles Melton subtly weaves links between actresses and eras. On the Croisette in Cannes, the director accompanied the film Todd Haynes and the protagonists of the film Natalie Portman, Julianne Moore, Cory Michael Smith And Charles Melton. Here are all the photos:
This duality allows the American director to engage Julianne Moorefor a fourth collaboration, with Natalie Portmanwhich he presented A Tale of Love and Darkness Out of competition at Cannes in 2015, as director.
It took only 23 days to complete filming may december as Todd Haynes revealed in an interview at The Hollywood Reporters. A very fast production for the eleventh feature film by the director, winner of the Best Artistic Contribution Award at Cannes with Velvet Goldmine in 1998. On the musical side, the compositions of Marcelo Zarvos alternate with the melodies of Michael Legrand composed for the first time for The Messengers by Joseph Losey. Here are the photos from the photocall: