Percy Jackson e gli dei dell'Olimpo: teaser trailer della serie Disney+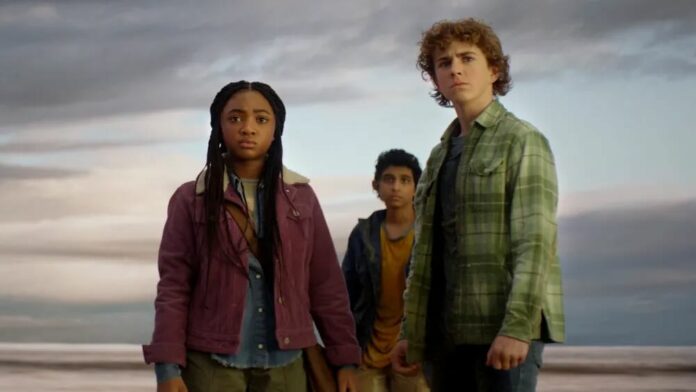 Disney+ ha diffuso il primo teaser trailer della nuova serie originale Disney+ Percy Jackson e gli dei dell'Olimpo. L'epica serie, basata sulla saga di libri best-seller del pluripremiato autore Rick Riordan, debutterà mercoledì 20 dicembre 2023 su Disney+ con i primi due episodi e con nuovi episodi ogni settimana.
Percy Jackson e gli dei dell'Olimpo racconta la fantastica storia di un moderno semidio dell'età di 12 anni, Percy Jackson, che sta iniziando ad accettare i suoi nuovi poteri divini quando il dio del cielo, Zeus, lo accusa di aver rubato il suo fulmine maestro. Con l'aiuto dei suoi amici Grover e Annabeth, Percy deve intraprendere l'avventura di una vita per ritrovarlo e riportare l'ordine nell'Olimpo.
Percy Jackson e gli dei dell'Olimpo è interpretata da Walker Scobell (Percy Jackson), Leah Sava Jeffries (Annabeth Chase), Aryan Simhadri (Grover Underwood) e vede la presenza di guest star come Lin-Manuel Miranda (Ermes), Megan Mullally (Alecto alias Signora Dodds), Toby Stephens (Poseidone), Virginia Kull (Sally Jackson), Jason Mantzoukas (Dioniso alias Signor D), Jay Duplass (Ade), Glynn Turman (Chirone alias Signor Brunner), il compianto Lance Reddick (Zeus), Adam Copeland (Ares), Charlie Bushnell (Luke Castellan), Dior Goodjohn (Clarisse La Rue), Jessica Parker Kennedy (Medusa), Olivea Morton (Nancy Bobofit), Suzanne Cryer (Echidna), Timm Sharp (Gabe Ugliano) e Timothy Omundson (Efesto).
Rick Riordan, il celebre creatore di "Percy Jackson", ha lavorato a stretto contatto con il team creativo e gli showrunner Jon Steinberg e Dan Shotz per dare vita ai suoi libri e realizzare una serie che rimanesse fedele alla sua visione di questi eroici personaggi che milioni di fan della saga conoscono e amano. I primi due episodi sono scritti da Riordan e Steinberg e diretti da James Bobin.  Steinberg e Shotz sono i produttori esecutivi insieme a Rick Riordan, Rebecca Riordan, Ellen Goldsmith-Vein di The Gotham Group, Bert Salke, Jeremy Bell e D.J. Goldberg di The Gotham Group, James Bobin, Jim Rowe, Monica Owusu-Breen, Anders Engström e Jet Wilkinson.