Small Fish – An agency. Lots of ideas. Low budget: trailer of the comedy series of The Jackal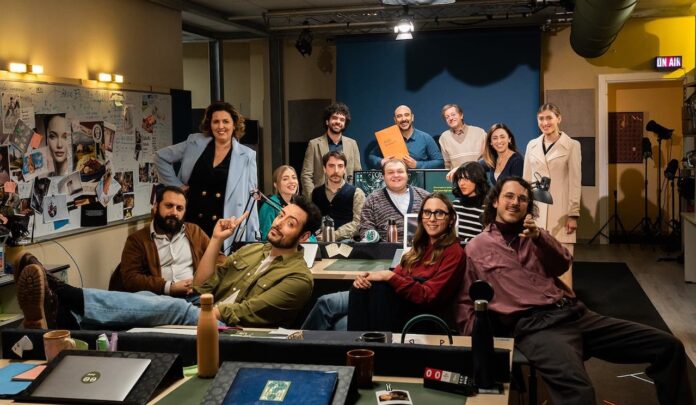 Prime Videos unveiled the trailer for Small Fish – An agency. Lots of ideas. Little budgetthe first comedy series produced and conceived by the content factory The Jackalavailable exclusively on Prime Videos from 8 June. Small fish. An agency. Lots of ideas. Little Budget is the latest news for customers Amazon Primewhich in Italy benefit from fast shipping, exclusive offers and entertainment, included Prime Videoswith a single subscription for €49.90/year or €4.99/month.
Jackals are the protagonists in the cast Fabio Balsamo, Gianluca Fru, Aurora Leone, Ciro Priello and with Martina Tinnirello. Among the surprises that will enrich the six episodes that make up the first series are also six unexpected special guests: Herbert Ballerina, Achille Lauro, Giovanni Mucciaccia, Gabriele Vagnato, Valentina Barbieri and Mario "Il Ginnasio" Terrone.
In the era of TikTok stars and successful lives framed in social media, what's great about living a normal life every day? What if this normal life took place in a small social communication agency? Ciro, Fabio, Fru and Aurora are friends and colleagues immersed in the digital undergrowth made up of loser provincial brands and small tragicomic influencers, but also made up of gestures of friendship, flirting between colleagues and group rituals. The arrival of a new downgraded manager but determined to prove her worth will bring a wave of novelty, and will teach them that even a normal existence, without successes guaranteed by millions of followers, hides something precious if you have the right friends .
Produced by The Jackal with Mad Entertainment and in collaboration with Prime Videos, Small Fish – An agency. Lots of ideas. Little budget is divided into six episodes directed by Francesco Ebbasta, conceived by Francesco Ebbasta and Alessandro Grespan who wrote the story and the screenplay with Luca Vecchi and Stefano Di Santi. They complete the cast of Small fish Amanda Campana, Anna Ferraioli Ravel, Angelo Spagnoletti, Veronica Mazza, Giovanni Anzaldo, Sergio Del Prete, Flavio Pellino, Sara Penelope, Dino Porzio, Francesca Romana Bergamo, Alessia Santalucia, Gianni Spezzano, Marina Zanchi, Mario Zinno.
Small Fish – An agency. Lots of ideas. Little budgetwill join thousands of movies, shows and series already in the catalog of Prime Videos including the Original Italian productions The Bad Guy, Prism, Bang Bang Baby, Gianluca Vacchi: Mucho More, Laura Pausini – Nice to meet you, The Ferragnez – The series, All or Nothing: Juventus, Dog years, Dinner Club, Life with Charles, IRONthe first 3 seasons of Celebrity Hunted – Manhunt and of LOL: Whoever laughs is out; the award-winning series FleabagAnd The Marvelous Mrs Maiseland the big hits like The Lord of the Rings: The Rings of Power, Citadel, Argentina 1985, Jack Ryan,The Boys,Borat – Sequel to cinema films,The prince is looking for a son,Without Remorse,Good OmensAndCarnival Row, as well as licensed content available in over 240 countries and territories worldwide, and exclusive live broadcasts in Italy of the 16 best Wednesday night matches of the UEFA Champions League, as well as the UEFA Super Cup, up until the 2026/27 season. Other Original productions already announced are the Italian chapter of the universeCitadel,Everybody Loves DiamondsAndThe Ferragnez – The SeriesSeason 2.