The Caine Mutiny Court-Martial di William Friedkin arriverà su Paramount+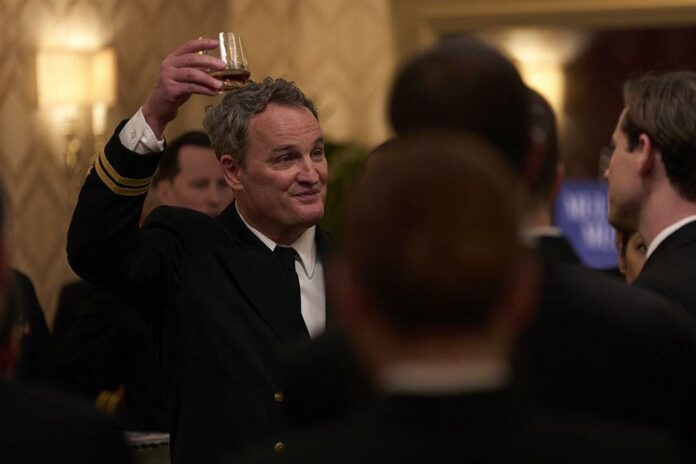 Paramount+ ha annunciato l'arrivo di The Caine Mutiny Court-Martial – scritto e diretto dal celebre regista premio Oscar William Friedkin e basato sull'omonima opera teatrale di Hermon Wouk, vincitrice del premio Pulitzer – prossimamente in Italia e in tutti i mercati internazionali in cui il servizio è attualmente attivo.
L'avvincente film, che è stato presentato ieri in anteprima all'80° Mostra Internazionale d'Arte Cinematografica di Venezia, segue le vicende di un primo ufficiale della Marina degli Stati Uniti che viene processato per aver orchestrato un ammutinamento dopo che il suo capitano inizia a dare segni di squilibrio, mettendo a repentaglio la vita del suo equipaggio. Interpretato da un cast eccezionale, The Caine Mutiny Court-Martial vede il coinvolgimento di Kiefer Sutherland (24), Jason Clarke (Oppenheimer), Jake Lacy (White Lotus), Monica Raymund (Chicago Fire), Lewis Pullman (Top Gun: Maverick), Jay Duplass (Transparent), Tom Riley (The Nevers) e Lance Reddick (John Wick).
All'inizio della corte marziale della Marina, Barney Greenwald (Clarke), uno scettico avvocato della Marina, accetta con riluttanza di difendere il tenente Steve Maryk (Lacy), un primo ufficiale della Marina che ha preso il controllo della U.S.S. CAINE dal suo capitano autoritario, il tenente Philip Francis Queeg (Sutherland) durante una violenta tempesta in acque ostili. Con l'avanzare del processo, Greenwald si preoccupa sempre di più e si chiede se gli eventi a bordo del Caine siano stati un vero ammutinamento o semplicemente atti di coraggio di un gruppo di marinai che non si fidavano del loro leader instabile.
Il lungometraggio della Republic Pictures, The Caine Mutiny Court-Martial, è un film di William Friedkin (The French Connection, L'esorcista) basato sull'opera teatrale di Herman Wouk. Scritto e diretto da Friedkin, il film è prodotto da Annabelle Dunne (Joan Didion: The Center Will Not Hold, Everything Is Copy And Fake Famous) e Matt Parker (Beasts of the Southern Wild) con Michael Salven (Dungeons & Dragons: Honor Among Thieves) e Mike Upton (John Wick) come produttori esecutivi. Il film è distribuito da Paramount Global Content Distribution.
Il film, The Caine Mutiny Court-Martial, è stato completato poco prima della morte di William Friedkin, avvenuta il 7 agosto scorso.